Shopping Basket
Your Basket is Empty
There was an error with PayPal
Click here to try again
Thank you for your business!
You should receive an order confirmation from Paypal shortly.
Exit Shopping Basket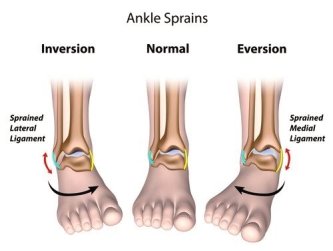 That Ankle Sprain affected more then just your ankle...
The Foot and Ankle in my opinion are severely under appreciated in there impact on our body, especially when it comes to restoring normal biomechanical function after an injury. Current orthopedic data estimates that there are 25,000 ankle injuries each day in the US alone. Of that 80% are inversion (supinated) ankle sprains, that's 20,000 a day and unfortunately back in 1995 I was a victim of a sprained ankle. 
So what is the big deal, it was just a sprained ankle and it will heal right?
Well everyone I've ever talked with that's sprained an ankle did the same thing as I did to recover. Remember that fancy acronym RICE...Rest, Ice, Compression and Elevation. That's what I did and for rehab, well all I did was wear a soft brace and pop anti inflammatories when I continued to play sports.
According to Dr. Gary Gray PT  (founder of The Gray Institute and developer of Applied Functional Science) has stated that RICE for an ankle sprain is the worst thing any PT can prescribe for recovery. Dr. Gary Gray through his work has found that restoring eversion (pronation) is critical for improving normal biomechanical function and the prevention of injuries and orthopedic changes in the joints above the ankle.
After my ankle sprain back in 1995 it took only 4 years before I started to develop knee issues on the same leg as the sprained ankle.  When I started personal training in 2001 I learned that the issues I had was called patella tendinitis or runners knee pain. I also learned that I needed to stretch my lateral quad, IT band, TFL and strengthen my glute med to get rid of my symptoms...ha ha ha ha. Did you get that, get rid of my symptoms. But what's causing those muscles to be tight in the first place???
So that's what I did and yes it got better but it would come back and I've had a few major flare ups while playing sports since then. Sound familiar?
So what does the ankle sprain have to do with this?
Earlier this year I was taking some courses from the Gray Institute and the knowledge I've gained from it has not only transformed my leg but also my approach with clients and its made a profound impact on improving my clients lives.
So here is what I learned...
If your reading this I want you to quickly stand up and just take a short walk about 10-20 feet and pay attention to where your weight is resting on your feet as you walk. Then come back and continue reading.
If you noticed that your weight is on the outside of your feet then your foot is in inversion (supination) which is the same position as a sprained ankle but most likely not as extreme. In my case the ankle I sprained back in 1995 is still stuck/locked in this position while my other foot is able to evert (pronate).
With the foot/ankle in a position of inversion (supination) the chain reaction up the body causes the lower and/or upper leg bones to externally rotate and potentially causing the hip to externally rotate as well. Consequently those bones that are externally rotated will be limited in their ability to internally rotate during ankle/knee/hip bending  (flexion) movements such as walking, running, lunging, squatting etc. The restriction to internally rotate will reduce the muscles ability to lengthen and load (eccentrically load) properly thereby causing the muscles to tighten up.
When I learned this I realized that my daily routine of rolling out my outer quad/IT band and TFL which by the way were tight as steal and sore as heck, was only treating the symptoms caused by my sprained ankle over 20 years ago.
So what is the treatment?
It's super simple, restore the foot and ankles ability to evert (pronate) with exercises/movements/stretches. If your unable to get a few sessions with a movement therapist/PT that understands this such as myself, a place to start is by standing on 1 leg and focus on using your big toe to push into the ground a little bit. If your getting in/out of a chair, push the big toe into the floor. Now this is not the optimal approach or thing to do but its better then nothing until you can get in with a professional for an assessment/evaluation and proper exercises.
PS. going out and getting an orthotic is not the answer, they are a tool designed to help the foot when the foot and ankle are not able to function. Do everything you can to restore foot/ankle functioning first.   

I hope you found this to be helpful...
remember - "if you can move better, you will feel better"
-Jon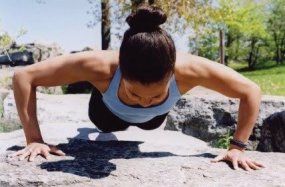 —most definitely you should for a few reasons. 
When you workout whether it's going for a quick run, bike ride, exercise class, lifting weights or playing a game your putting the muscles under stress by contracting them. 
This causes the muscles to fill with blood, produce lactic acid (by product of muscle contraction), micro tears, inflammation and causes increased tension on the body as a whole. Now I'm sure all of us want a fit & tight body but having excessive tightness is not good because it restricts the bodies ability to move easily and freely. 
So by stretching your body and the muscles you just worked has many benefits such as;
• Faster recovery
• Reduced muscle soreness
• Helps slow down heart rate 
• Restores normal muscle length/tension
• Maintains normal muscle function
• Helps maintain good posture
• Makes you feel good
Now if your uncertain how to stretch properly or you just need that extra help being committed to stretching you could sign up for a yoga class or get a massage. But with me being a flexibility coach/therapist, I'd recommend getting stretched by myself or another certified flexibility therapist. Just saying:)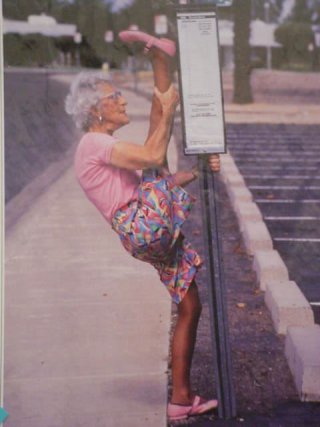 My body aches because I'm old!!!
Does it really though???
Ever since I got into the fitness industry back in 1999 I always hear those few famous words. 
" just wait until your my age"
" you can do that because your young"
" I hurt now because I'm old"
" If only I was 30 again"
Well I'm here to give you some good news! Your age is not the reason why your body is in the shape it is in or why you have aches & pains. 
The reason or answer to the above statements has more to do with; 
1) The neglect that has taken place.
2) Over training or abuse your body has gone through
3) Going to long without knowing that there was or is an underlying issue with your body.
4) I'm too busy to take care of myself.
Let's break this down further;
1) Neglect - this has a number of examples. 
A) Can you remember that time you fell down really hard and your body was sore for a few weeks or longer? After a while you forgot about it and never had it checked out because you where "young" or just didn't make time to go get it taken care of. Well that small trauma to your body that was left unchecked may have started to caused your body to either build scar tissue or to compensate in how you move. Which slowly starts to wear more & more a little bit at a time until "x" number of years down the road your body can no longer tolerate it. 
B) I see this one a lot with former athletes/fitness people. Which is from a lack of movement. They always say "well I use to be this or do that all the time until I got a desk job or life got to stressful and no time." Now they sit all day or never move their body anymore which results in a slowly state of decondition the body resulting in it's inability to adapt to stress as well as weaken the body. 
2) Abuse - I see this with the weekend warriors, Type A personalities, the New Years resolutions and endurance athletes. 
These examples cause more wear and tear to their body then most. They tend to have high pain tolerances and have the go get it done kind of mental attitude. Which is a great trait but they forget that part of the plan to attaining their goal also needs to include rest & recovery. Rome wasn't built in a day!
So after a few months or years of pushing 150% and forgetting about that small little ache it's now grown into a chronic situation but the "I'm not going to let this stop me" mind set is the root of their discomfort & pain. 
3) Ignorance - this is the type of situation that slaps you in the face and you never saw it coming but it could have been prevented it. All it takes is going and getting your body worked on and not forgetting that yes your head does sit on top of a body and it needs your attention just as much as you focus on work or your life. If you don't, your body will let you know that it's been forgotten about at some point down the road. 
4) Time - No I'm not taking about your age but not taking the time out of your busy day to focus on yourself. That's right, it's important to also spend time each day taking care of yourself. I'd say this is a HUGE factor for a lot of people. We are all busy and its easy to skip a meal, a workout, a doctor check up or to start that fitness program we've been taking about for 4 months now. Next thing you know 6 months have past and those extra pounds of fat are still there or the gym clothes still have the dust on them.
It's always that same answer isn't it, "I know...I know...I need to start that!" 
Now that I have a child I fully understand how difficult it is to find those extra few minutes to take care of me.

Remember, no one is going to give you that time you need....YOU have to find/make it yourself.

So there are my top 4 reasons why your age may not have anything to do with how you feel. So go make today count and change how you will feel tomorrow.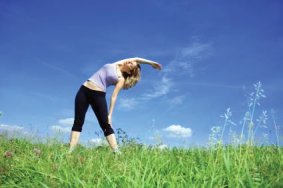 Stretching is not just about trying to do the splits, it's about restoring the bodies ability to move. As we go about our daily life's we are constantly moving against gravity and as creatures of habit we tend to do the same things every day. Whether that means sitting at a desk all day, exercising with weights or running every day or standing on your feet all day. As a result of this repetitive motion or lack there of, the body will slowly adapts to what your doing. Some areas will get tighter from the overuse while others may get weaker. Over a period of time this imbalance slowly increases inflammation in the joints and surrounding tissue which disrupts the ability to move freely. A body (whether it's a joint or muscle tissue) under stress is slower to recover and repair from daily life activities then a body free of stress. 
So this is where stretching comes in. 
By incorporating a daily stretching routine your training the body to be better at recovering and adapting to these stresses.  In a way your bring yourself back to center.  The other thing about stretching daily is you begin to learn how your body feels from head to toe, you begin to have a better understanding of what's normal tightness and when something is out of balance and needs extra work by a professional such as a chiropractor, massage therapist or a flexibility therapist such as myself.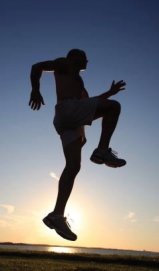 Should I Stretch Before
Working Out?
That's a great question and there are so many opinions out there that say yes you should and more times than not they say no you shouldn't because current research show that it doesn't help improve range of motion or reduce your chance of injury.
Well here's some up to date information for you
Current research that says you should not stretch before exercise is based on static stretching and they are correct.  Static Stretching is performed by holding a stretch or position for a period of time and may or may not be repeated. Research & Studies have shown that this type of stretching is Passive and cannot increase core peripheral temperatures thereby not aiding as a warm-up (Science of Flexibility 2004. p. 160).  In addition Static Stretching benefits have been shown to only last for 6 minutes after administration (Science of Flexibility 2004, p. 160).  Lastly, Static Stretching has been shown to cause reduced muscle power and performance which puts you at risk of injury (Science of Flexibility 2004, p. 259). Conclusion is Static Stretching will result in reduced performance and no improvement in flexibility or range of motion. 
Dynamic Stretching is performed without holding a stretch or position and moving a joint actively through its full range of motion. To make this even more effective is to do this by moving in & out of each stretch or movement at varying speeds from fast to slow. Imagine the ocean waves as they crash onto the beach. Each wave is slightly different then the last in its intensity, it's height and how far up the beach it goes and never repeating the same path in or out. This is what we (Fascial Stretch Therapist) call a "Stretch Wave". Coming in and out of a stretch and at different angles and this is why I use the term 3D Stretching. Just doesn't make sense to stretch in 1 dimension when we move in 3 dimensions doesn't it?  
By constantly moving in and out of a stretch or position rather than holding a stretch allows for better blood flow and circulation thereby increasing core body temperature which aids in improving flexibility and range of motion.  This is the best way to reduce your injury because your body is better warmed up through various ranges of movement allowing you to move better with less strain. The nervous system in addition is more prepared for what our about to do and less likely to be on guard. Lastly and most importantly is better muscle recruitment and activation which will increase the quality of movement and fluidity.
/